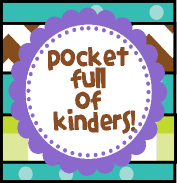 Please stop by and visit me today at Pocket Full of Kinders! I'm guest blogging again for the awesome, keep 'em laughing, superstar teacher, Ms. Shuna Patterson. I was beyond excited to have the opportunity to hang out in her neck of the woods again and she's promised to come over and check on us in the near future. I can't wait!
Click on her cute button above to hop over and see what I REALLY NEED some help with! PlllllllEEaassse!!! ;-)
Enjoy your Tuesday evening!